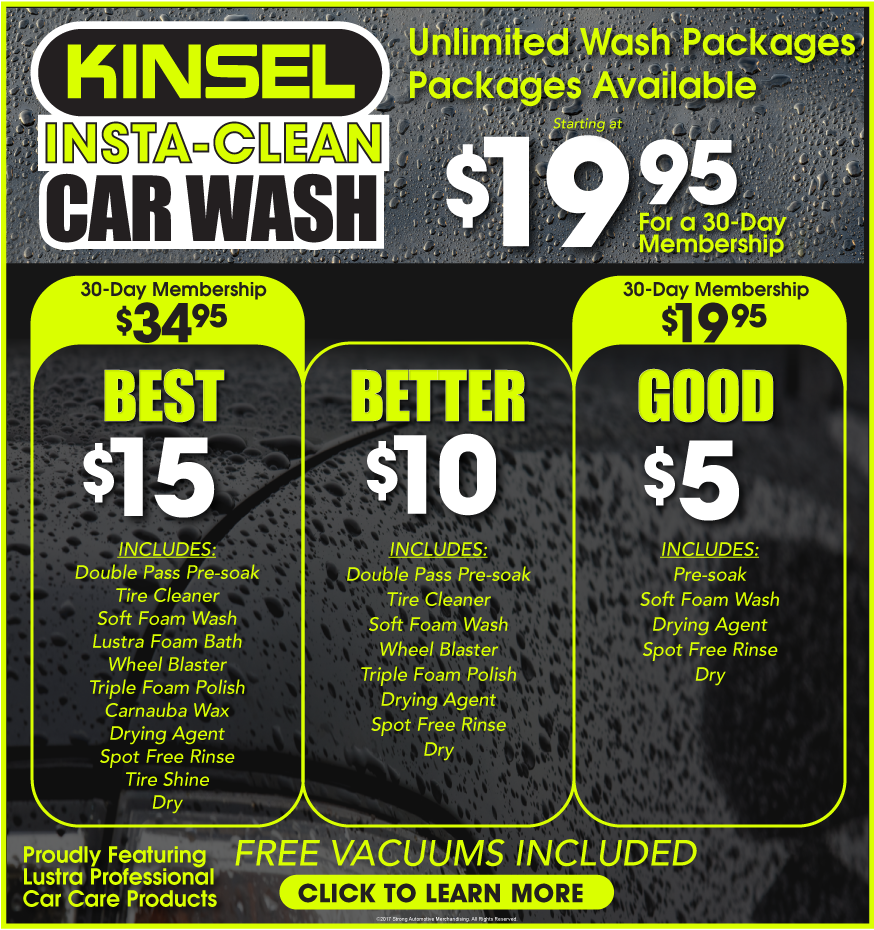 How to Get FREE Car Wash for Life at Kinsel Toyota
When you choose to purchase a vehicle from the all-new Kinsel Toyota dealership, we want to provide you with FREE car washes for LIFE. That's right, life-time car washes. Be aware, this is no ordinary car wash. It's a one hundred and fifty-foot tunnel car wash that cleans and shines like no other. This car wash is more advanced than anything we've ever seen and we are excited to share it with our loyal customers! To receive FREE car washes for life, all you have to do is keep the Kinsel Toyota branding sticker on your car! When you drive around the Beaumont and Port Arthur areas in a clean and shiny car, people will wonder where you got it from. We want our customers to be proud to say that they shop at Kinsel Toyota! If you haven't shopped with us before, but want to take advantage of our pristine car washing machine, we welcome you to come in! We have packages and specials available for all car owners who would like to keep their vehicle in tip-top shape.
Kinsel Insta-Clean Car Wash
To help keep your car looking its best, regular washes are key. Kinsel Toyota wants to make it easy and affordable for you, which is why we are offering Unlimited Wash Packages starting at $19.95. The packages range from GOOD, BETTER, to BEST and the membership will last for 30 days. Right now, our GOOD package is the base package and offers unlimited car washes for 30 days at the low price of just $19.95. Our BEST package includes a premium car wash that includes wax, tire shine, spot free rinse and so much more, for only $34.95 a month. If you have any questions about which package might be the best fit for you, please contact us!
Why Regular Car Washes are Important
Your car receives the brunt of all outside forces in everyday life, so it's important to show it some love every now and again. Your car's body picks up so much dust and grime while driving and if you are not properly cleaning your car, then all of that grime slowly starts to chip away at your vehicle's paint. When paint is removed, the sheet metal is exposed which produces a feeding ground for rust to move in. Protect the longevity or your car's finish by getting regular car washes to remove dirt and other droppings (we're looking at you birdie). For the best results, our Insta-Clean car wash uses Lustra Professional Car Care Products and free vacuums are always included.
Automated Car Wash at Kinsel Toyota in Beaumont, TX
Our dealership wants to make maintaining your vehicle as simple as possible. That's why we offer free car washes for life when you purchase a vehicle, and keep the Kinsel branding sticker on. We also want new customers to take advantage of our excellent car wash amenities by purchasing a package or checking out available specials. Don't spend your Saturdays washing your car by hand, come into Kinsel Toyota inBeaumont, TX and let us get the job done for you!